If you are looking to add valuable floorspace to your property then why not add a conservatory.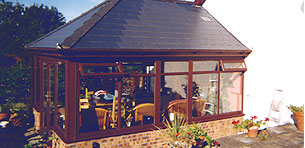 Mayes Builders can arrange the everything from helping attain planning permission, plans and development through to a seamless construction onto your property that will enhance it both in value and in appearance.

Unlike most conservatories, we recommend that they have tiled roofs, to prevent them from getting too hot in the summer months.

The choice however, is yours as we can construct them to suit your needs.

If you want materials to be sourced so that the conservatory matches your building correctly then just ask! We are happy to find what you need.